Best of Unix / Gnu Cheat Sheets Quick References
Tuesday, December 22 2009 @ 10:37 AM CET
Contributed by: Jerry Rocteur
Views: 14,382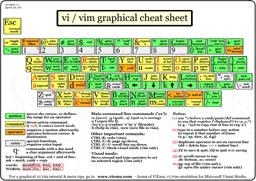 Thanks to Denis for this one!
Links to Unix Quick Reference and Cheatsheets
I like to see the links all on one page and particularly like the tcpdump, wireshark and Netcat sheets.
Perl is missing, but I'll rectify that!
http://johnbokma.com/perl/perl-quick-reference-card.pdf
And Regular Expressions:
http://www.night-ray.com/regex.pdf
In the mean time, there's quite a few to read here!
What else is missing ?
MySQL http://www.explainth.at/downloads/mysqlqr.pdf
http://www.thegeekstuff.com/2009/08/firefox-graphical-cheatsheet-for-keyboard-shortcuts/
Firefox http://www.thegeekstuff.com/images/firefox-graphical-cheatsheet.png
Sorry about the last Vim quick reference I had here, it was pretty lame, this one is better:
http://tnerual.eriogerg.free.fr/vim.html
Mdadm http://www.ducea.com/2009/03/08/mdadm-cheat-sheet/?utm_source=feedburner&utm_medium=feed&utm_campaign=Feed:+Mdlog+(MDLog:/sysadmin)&utm_content=Google+Reader
Mutt and Emacs http://commandline.org.uk/2007/mutt-and-emacs-cheatsheets/
Thanks again Denis!